Kalpana from Metropolitan Mar Aprem regarding meeting scheduled in all regions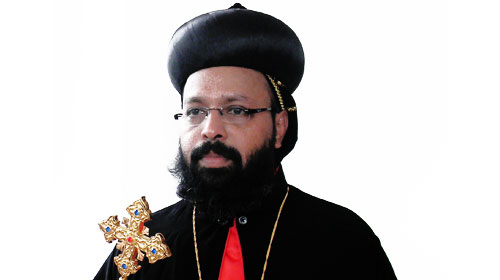 Blessings to the Vicars, Priests of the locality, trustees, secretaries, members of the parish managing committee, diocesan assembly members, association members and regional/diocesan level office bearers of all the spiritual organizations.
Dearly beloved,
As I mentioned earlier I will reach at Houston on Wednesday, October 18 and would like to see you all in the different regions. Due to my time constraint, I am unable to visit other regions now. I tried my level best to organize meetings in all our regions. Kindly note the following schedule and make it convenient to participate in your regional meeting.
Thursday, October 19 South West Airlines (WESD 2D) - Flight No.781 Houston Hobby to Atlanta –Arrival at Atlanta at 1.50 pm- Meeting at St Thomas Orthodox Church.
Friday, October 20 South West Airline (J45PHX) - Flight No. 203 Atlanta to FL Lauders - (10.30 am to 12.15pm) Meeting at Tampa St. Gregorios Orthodox Church.
Saturday, October 21 Florida to Houston for Council meeting, Sabha Managing Committee (Video conference) and in the evening joint meeting of Houston regions (San Antonio, McAllen, Austin and Lufkin) at St. Thomas Indian Orthodox Cathedral.
Sunday, October 22 Holy Qurbana at St. Stephens Orthodox Houston. Sunday, October 22 South West Airlines (WSO4XZ) - Flight No. 5720 Houston Hobby- Dallas Love Field 5 pm- 6 pm. Meeting at Dallas St. Thomas Orthodox Church.
Monday, October 23 South West Airlines (WSO4XZ) - Flight No. 1512 Dallas Love Field - Chicago Midway 7.15 am - 9 am. Meeting at Chicago St. Thomas Orthodox Church.
Tuesday, October 24 South West Airlines (WSD4S9) - Flight No. 289 Chicago Midway- Houston 11 am - 1.40pm.
All meetings are scheduled in the evenings followed by the evening prayer. I humbly request everyone's participation
May the love of God the Father, the grace of our Lord Jesus Christ and the fellowship and communion of the Holy Spirit be with us forever and ever.
Metr. Dr. Zacharias Mar Aprem
From Sreyas Aramana
Adoor, Pathanamthitta Dt., Kerala, India
On October 12, 2017