Mar Barnabas Educational Award - Winners of 2017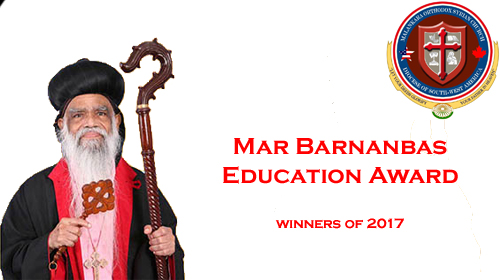 Blessings to the beloved Vicars of the Parishes, Priests of the locality, Cor-Episcopoi, Deacons, Kaisthanees, and faithful of all parishes in our Diocese of South-West America!
Dearly beloved,
We hope that you have enjoyed the heavenly pleasure of a merry Christmas and the beauty of the dawn of a blessed new year.
We are delighted to announce the winners of Mar Barnabas Educational Award 2017. As you all know Mar Barnabas Educational Award was instituted in 2011 to encourage our children to excel in their academic achievements with a commitment to their parish, diocese and the mission of the church. Each year, 12th-grade graduates who are entering their first year of post-secondary education have been invited to apply for the Award.
In the year 2017, the diocese received several applicants from 4 of the 5 regions within our diocese and there was no application from the west region. The award committee completed the review process according to the previously established evaluation guidelines. This year, the committee submitted the feedback that all applicants demonstrated a high level of academic achievement along with qualities of leadership and a level of involvement and commitment to their local parish and recommended awarding a third-place recipient in each of the four regions that participated. The diocesan council approved the recommendation since it meets the full allocated budget of $5,000 for the year 2017 and proposed to consider increasing the annual budget for future years.
It is with great pleasure we announce the recipients of the 2017 Mar Barnabas Educational Award:
Midwest Region:
Kevin Varghese, St. Gregorios Orthodox Church, Kansas City - First Place
Thomas Simon, St. Thomas Orthodox Church, Chicago - Second Place
Rebeca John, St. Thomas Orthodox Church of India, Warren (Detroit.) - Third Place
Northwest Region:
Rebeca George, St. Mary's Malankara Orthodox Church, Calgary, Canada - First Place
Stephen Binny Kuruvilla, St. Mary's Malankara Orthodox Church, Calgary, Canada - Second Place
South Region:
Joshua Johnson, St. Gregorios Orthodox Church, Austin, TX - First Place
Mathews Geevarghese, St.Mary's Orthodox Valiyapally, Farmers Branch, TX- Second Place
Sherwin Sajan Philip, St. Gregorios Malankara Orthodox Church, Houston, TX - Second Place
Bethany Zachariah, St. James Orthodox Mission Church, Dallas - Third place
Isaac John, St. Thomas Indian Orthodox Cathedral, Houston - Third Place
Southeast Region:
Steven Philip Joseph, St. Gregorios Orthodox Church, South Florida - First Place
Philip Varghese Ambattu,St. Thomas Malankara Orthodox Church, Pompano Beach, FL - Second Place
Shani Mary Abraham, St. Gregorios Malankara Orthodox Church, Tampa, FL -Third Place
Sheba Ann Mathew, St. Mary's Orthodox Church, Rosewell (Atlanta) -Third Place
We congratulate all our children who have received the education award in 2017 and pray that God may grant them wisdom and strength to continue in academic excellence while remaining committed to Christ and His Holy Church. May the prayers and intercessions of the late lamented Metropolitan H. G. Mathews Mar Barnabas in whose memory the educational award was established, continue to be with us all.
May the love of God the Father, the grace of our Lord Jesus Christ and the fellowship and communion of the Holy Spirit be with us forever and ever.
Metr. Dr. Zacharias Mar Aprem
From Sreyas Aramana
Adoor, Pathanamthitta Dt., Kerala, India