---
May 28 , 2014
"Urshlem" Diocean Center- Beasley, Texas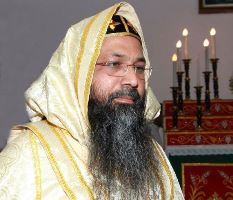 The Diocese, having been formed in April 2009, has now completed 5 years by divine providence.  Though half a decade is not a long period in the history of a Diocese, we live in a world where changes happen even before we complete a sentence about the present.  As she makes her spiritual pilgrimage, the Church in North America faces different challenges since Western culture and oriental faith are at odds with each other in some of the practices of day-to-day life.  The foundation of the Orthodox Church is rooted in the values laid down and upheld by the forefathers of the church and therefore they must be upheld and preserved.  However it is difficult to explain certain age old faith matters to the generation of our time since those faith matters often contradict modern concepts of growth like individual freedom, consumerism and even our understanding of marriage and family.
The past 5 years of this Diocese mostly concentrated on its organization, with priority given to building its spiritual and administrative structure. We have succeeded in this task to a large extent through the cooperation of the devoted clergy and committed faithful of the church.  In the coming half decade, we have to concentrate on the development of infrastructure envisioning the forthcoming 100 years of this diocese, while incorporating the spiritual and temporal growth of the various age groups of our faithful. The Malankara Orthodox Church has sprouted in this western world and so there is a big task of bringing up its faithful within a different cultural milieu while maintaining the oriental theological faith of orthodoxy.  I believe this is a task that needs careful attention with adequate infusion of our energies and resources. If we bring this task to fruition then the Malankara Orthodox Church has a bright future in North America and the heritage of St. Thomas and the Malankara Church will be able to stand with pride among other churches and traditions.
When we celebrate the fifth year of this Diocese and the Diocesan day on June 1st we have to think about the challenges we face, the strategies we need take and the commitment we need to have for the sustainable growth of this Diocese and for the future of our Church in North America.  Urshlem, the new Diocesan center, is a clear indication of God's mercy on this church. Let us pray that  the Holy Spirit guide us for the bringing up of a culture-rich Oriental Orthodoxy in this part of the world that upholds the faith and traditions the church inherited from its forefathers.
May the peace that Christ proclaimed unto the disciples after the Resurrection be with you, empower you, comfort you, and guide you through your daily life.
Yours in Christ,

Alexios Mar Eusebius
Metropolitan