Statement & Word of Condolence on Florida High School Shooting
Mar Barnabas Educational Award Winners for the year 2017
Houston Area MGOCSM to Host English Lenten Evening Prayers.
Sabha Calendar 2018 ( Panjagom)
Diocesan MGOCSM Council Meeting was held in Atlanta from January 12th – 14th, 2018
New Service Book of the Holy Qurbono is ready to ship
OCYM Dallas Region to host Vattaseril Mar Dionysius Memorial Symposium
Diocesan MMVS Bible study classes for the year 2018
H.G.Zacharias Mar Theophilos Metropolitan Entered Eternal Rest.
Mar Barnabas Educational Award - Winners of 2017
2017 MGOCSM Elmhurst Getaway!
Picture Recap : Bava Thirumeni's visit to the Diocese
2017 Detroit Area OVBS Highlights
Kalpana from Metropolitan Mar Aprem regarding meeting scheduled in all regions
9th Annual Diocesan MMVS Conference held at St. Gregorios Church, San Francisco
MMVS Dallas-Oklahoma Regional meeting held at Dallas
Diocesan Clergy, Assembly Members & Malankara Association members meeting on Sat, Sep 2
Kalpana from His Holiness Moran Mar Baselios Marthoma Paulose II Catholicos
St. Thomas Orthodox Church, LA MGOCSM Summer Conference
Picture recap: 2017 Midwest MGOCSM Summer Conference
Metropolitan Yuhanon Mar Policarpos to lead Dallas St. Mary's Valiyapally Perunnal
MMVS Midwest Regional Meeting Pictures
Picture recap: Chicago Area OVBS
Pictures from the Consecration Service of St. Mary's Church Houston
Rev. Fr. Alexander Kurian main speaker for MMVS Midwest one day conference
Picture Recap: 2017 Urshlem Women's Summer Camp
Picture tour : Urshlem Men's Summer Camp 2017
Mar Barnabas Educational Award 2017: Deadline to apply August 29, 2017
George Ninan Manampuram ordained as Sub-Deacon (Apodyaqno) .
Picture Recap: MMVS Dallas-Oklahoma Regional Meeting
MMVS Detroit Regional Meeting held on Saturday, March 14, 2017
Virtual Tour : Urshlem Diocesan Center Chapel Project.
Dallas Area MMVS Regional Meeting Report
Our Faith — an educational ministry project
DS-WA Department of Counseling Services - Survey Completion Request
The Sacrament of Holy Matrimony (English)
LoveIndeed - A Charity Project of Diocese of South-West America
Draft copy of the proposed liturgical book submitted to Holy Synod
Dallas/Oklahoma Area Acolyte Training / Women's Ministry August 24th, 2013
Metropolitan's Message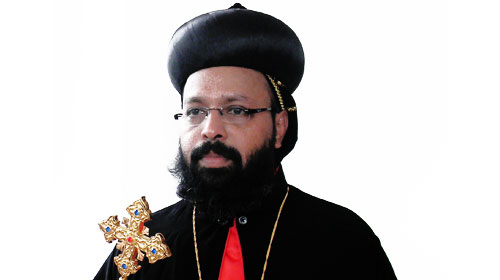 February 15, 2018
From Sreyas Aramana
Adoor, Pathanamthitta Dt., Kerala, India
We are deeply shocked and saddened by the unspeakable tragedy and violence that occurred at the Marjory Stoneman Douglas High School in Parkland, Florida on February 14, 2018, that killed at least 17 children and adults and wounded several others.
This senseless act has shaken our entire community, and it continues to add to the number of mass shootings that have taken place in the United States in recent times. While we condemn this act of violence, we pray for our leaders, those in civil authority, and all people, that we may have the strength and courage to act for peace and love in our society. May it not lead us to division, but to greater unity and understanding of one another so that we may be free from all violence and hatred.
More
Dec 17
Before Holy Qurbana

■Genesis 46: 8-27 ■I Kings 9: 3-7 ■Isaiah 7: 14-15, 11: 1 -9

Holy Qurbana

■Acts 3: 16-26 ■Romans 4: 13-25 ■St. Luke 3: 23-38
Prayer Request
Bulletin Board