Pictures:Sunday of Hosannas (Palm Sunday ) from Dallas St.Mary's Valiyapally
Palm Sunday Pictures from Dallas St. Gregorius Orthodox Church
Diocesan Metropolitan to lead Holy Week Services at Dallas St.Mary's Valiyapally
Lenten Retreat at St. Gregorios Orthodox Church, San Francisco
Dallas St. Thomas wins SS Regional 2014 Grand Ever Rolling Trophy & the Top Performer Trophy
Pictures From Dallas Area Orthodox Convention held on Friday April 4th - Sunday 6th,2014
Dallas St. George wins SS Regional Very Rev Koshy Poovathur Cor Episcopa Memorial Trophy
Dallas St Gregorios Orthodox Church honors SS Regional Competition Winners
Diocese to Celebrate Catholicate Day on Sunday April 6 ,2014
Diocesan Newsletter THE STREAM - March 2014 Edition
Dallas Area Family Conference 2014: July 10-13
Palm Sunday Hymns: (Feast of our Lord's Entry into Jerusalem- English Version).
Houston Area Family Conference - 2014 : June 12-14
New Patriarch Elected : will known as Moran Mar Ignatius Aphrem II Karim
Rev. Fr. Thomaskutty Kaduvettor (St. John's Orthodox Church, Orangeburg, NY ) passed away
MMVS Combined Lenten Retreat of Chicago/St. Louis conducted at St. Mary's Church Oak lawn
MMVS Dallas Region Second Annual Meeting and Beasely Aramana Chapel Fund Raising Drive
Suboro Perunal celebrated at Diocesan Center Chapel
Service of Reconciliation in English held at St. Thomas Cathedral, Houston
Falling asleep in the Lord of Metropolitan Philip, Antiochian Archdiocese of North America
Memory Eternal! Passing away of H.H. Ignatius Zakka Iwas
Recent Tragedies in our Community : By Rev. Fr.Joel Mathew ( MGOCSM Diocesan Secretary)
SBAC (Sisters and Brothers Within Area Codes)
Pictures: 2014 St. Thomas Cathedral Houston Parish Day celebration and Convention
Purchase a beautiful handmade icons made by CALC Committee and Support CALC 2014.
Holy Sacrament of the sick (Kantheela Shushrusha ) of HH Moran Mar Baselios Marthoma Didymus I
Prepare for the Great Lent March 3 - April 20,2014
Shubqono Service - Service of Reconciliation (English)
Weekly Holy Qurbana Started at Urshlem Aramana Chapel on Sundays- Morning Prayer 9.00 AM
Full Video: Service of 'Kantheela' to His Holiness Baselios Marthoma Didymus I Valiya Bava
Rev. Fr. Ninan V George will lead the Dallas Area Orthodox Convention
2014 Diocesan Clergy Conference & Diocesan Assembly - May 15,16,17 at Urshlem Center, Beasley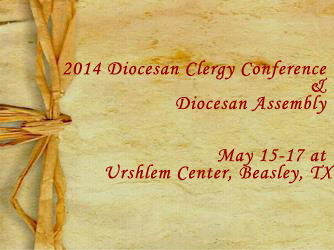 Blessings to all our Clergy and faithful
Dearly beloved,
This year our Diocesan Clergy Conference will be held from Friday May 15 to Saturday May16 and the
A life time experience - 10 days in Cairo Pan-Oriental Orthodox Conference
2014 Sabha Panchangam (Malayalam) in pdf format (original high-resolution )
Malankara Orthodox Foot Steps - A Documentary developed by Sunday School Association
Dallas/Oklahoma Area Acolyte Training / Women's Ministry August 24th, 2013
Diocesan Prayer Ministry - English Prayer 'SLOOTHO ' - Every Tue 9.05 PM -9.35 PM (CST)
Diocesan MMVS Faith and Bible Study - Every Thursday and Friday at 8PM(CST)
LoveIndeed - A Charity Project of Diocese of South-West America
Metropolitan's Message

March 01, 2014
"Urshlem" Diocean Center- Beasley, Texas
Dearly Beloved,
As we begin our journey through the Great Lent, let us recall the great example of our Lord who by his life taught us the discipline of fasting combined with intense prayer, which leads us to gain strength and victory in the constant spiritual battles we encounter in the world. Just like how Moses, Elijah, and our Lord fasted for 40 days, we too must discipline our body, soul and mind, preparing ourselves toembrace the Risen Lord.
More
Apr 20(Kymtha)
Before Holy Qurbana
■Leviticus 23: 26 - 32 ■Isaiah 60: 1-7, 11-16, 61: 10-62: 5
Holy Qurbana
■Acts 2: 22 -36 ■I Corinthians 15: 1- 19 ■St. Matthew 28: 1-20
Prayer Request
Bulletin Board