Diocesan MGOCSM Council Meeting was held in Atlanta from January 12th – 14th, 2018
Mar Barnabas Educational Award - Winners of 2017
2017 MGOCSM Elmhurst Getaway!
H.G.Zacharias Mar Theophilos Metropolitan Entered Eternal Rest.
Picture Recap : Bava Thirumeni's visit to the Diocese
2017 Detroit Area OVBS Highlights
Kalpana from His Holiness regarding Harvey Response & Restoration Fund.
Kalpana from Metropolitan Mar Aprem regarding meeting scheduled in all regions
9th Annual Diocesan MMVS Conference held at St. Gregorios Church, San Francisco
Memory Eternal! - Rev. Fr. John Vaidyan (Atlanta), entered into eternal rest.
MMVS Dallas-Oklahoma Regional meeting held at Dallas
50th Priesthood Ordination Celebration of Rev. Fr. M K Thomas held at Raleigh
Ettu Nombu Perunnal at St. Mary's Orthodox Church, Houston
Diocesan Clergy, Assembly Members & Malankara Association members meeting on Sat, Sep 2
Kalpana from His Holiness Moran Mar Baselios Marthoma Paulose II Catholicos
Metropolitan Mar Demetrios Chief Celebrant for Houston St. Mary's Church Perunnal
Dallas Area OCYM Annual Family Conference to be held on Saturday, September 23
St. Thomas Orthodox Church, LA MGOCSM Summer Conference
Picture recap: 2017 Midwest MGOCSM Summer Conference
Metropolitan Yuhanon Mar Policarpos to lead Dallas St. Mary's Valiyapally Perunnal
MMVS Midwest Regional Meeting Pictures
Picture recap: Chicago Area OVBS
Pictures from the Consecration Service of St. Mary's Church Houston
Rev. Fr. Alexander Kurian main speaker for MMVS Midwest one day conference
Picture Recap: 2017 Urshlem Women's Summer Camp
Picture tour : Urshlem Men's Summer Camp 2017
Mar Barnabas Educational Award 2017: Deadline to apply August 29, 2017
George Ninan Manampuram ordained as Sub-Deacon (Apodyaqno) .
His Eminence Metropolitan Iakovos has Fallen Asleep in the Lord
Christ is Risen, Indeed He is Risen: Easter Wishes to all.
Picture Recap: MMVS Dallas-Oklahoma Regional Meeting
Memory Eternal! Reverend Fr. Anthony Creech
Dallas Area 4th Annual Orthodox Convention
MMVS Detroit Regional Meeting held on Saturday, March 14, 2017
La Moriyo Zegtho' ticket sales kickoff held at St. Mary's Church, Carrolton
Virtual Tour : Urshlem Diocesan Center Chapel Project.
Dallas Area MMVS Regional Meeting Report
Our Faith — an educational ministry project
Urshlem Summer Women's Camp 2017
Urshlem Summer Men's Camp 2017
DS-WA Department of Counseling Services - Survey Completion Request
The Sacrament of Holy Matrimony (English)
LoveIndeed - A Charity Project of Diocese of South-West America
Draft copy of the proposed liturgical book submitted to Holy Synod
Dallas/Oklahoma Area Acolyte Training / Women's Ministry August 24th, 2013
Metropolitan's Message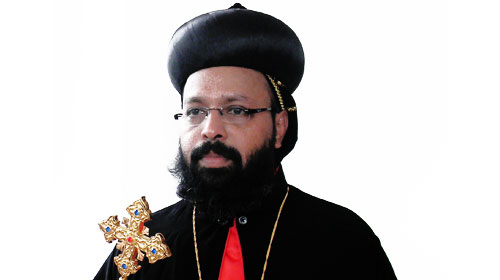 September 28, 2017
From Sreyas Aramana
Adoor, Pathanamthitta Dt., Kerala, India
Blessings to the beloved Vicars of the Parishes, Priests of the locality, Cor-episcopoi, Deacons, Kaisthanees, and faithful of all parishes in our Diocese of South-West America!
Dearly beloved
Greetings to you all in the name of the Holy Triune God! As you all know, through the Kalpana No. CMM/SWA/248/2017of His Holiness Baselios Marthoma Paulose II, the Catholicos of the East and Malankara Metropolitan, we have been appointed as the Assistant Metropolitan of the Diocese of South-West America with effect from 20th September 2017.
More
Dec 17
Before Holy Qurbana

■Genesis 13: 1-11 ■Isaiah 1: 2 - 9

Holy Qurbana

■I Peter 2: 11 -17 ■Galatians 1: 11-24

Holy Qurbana

■I Peter 2: 11 -17 ■Galatians 1: 11-24 ■St. Matthew 1: 18-25
Prayer Request
Bulletin Board