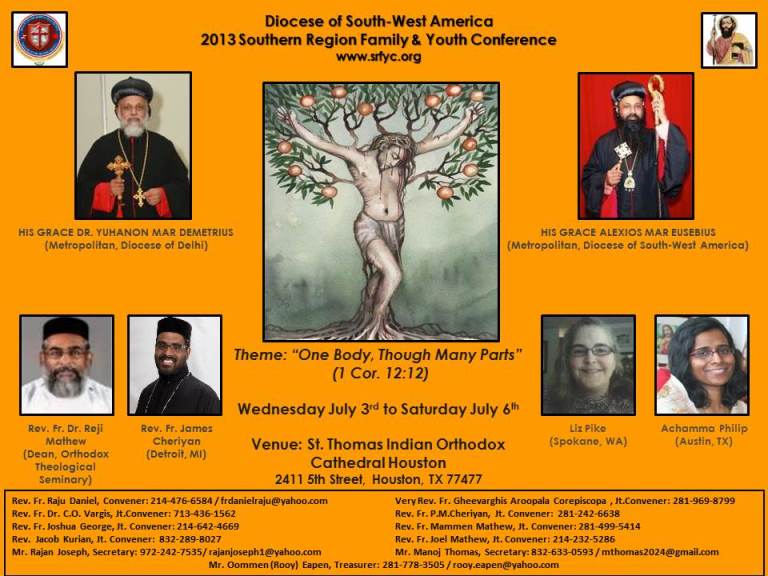 "The 2013 South Region Family and Youth Conference (SRFYC) will be held at the St. Thomas Indian Orthodox Cathedral in Houston, TX. With our Diocesan Metropolitan's presiding, the Conference will be led by His Grace Dr. Yuhanon Mar Demetrios (Metropolitan, Diocese of Delhi), Rev. Fr. Reji Mathew (Dean of Studies, Orthodox Theological Seminary, Kottayam), Rev. Fr. James Cherian (Detroit), Mrs. Elizabeth Pike Kochamma (Spokane, WA) and Mrs. Achamma Philip (Austin).
A large conference committee with coordinators from all 18 parishes in the South Region and representatives from all spiritual organizations are working hard to ensure a blessed conference that effectively caters to the spiritual nourishment of all demographics of the Church - men, women, youth and children. Additionally, the conference also includes fun-filled organized sports, cultural programs and July 4 fireworks.
We invite all our believers in the South region to register for the conference at the earliest through their parish conference coordinators; through the conference website www.srfyc.org; or by completing and sending the attached registration form and payment to any of the Conference officers. Please contact Rev. Fr. Raju Daniel (Conference Convener - 214-476-6584), Rajan Joseph (Secretary - 972-242-7535), Manoj Thomas (Secretary - 832-633-0593) or Oommen Eapen (Teasurer - 713-319-8037) for more information.