His Grace Zachariah Mar Theophilus - Medical condition updates from Diocesan Center , Houston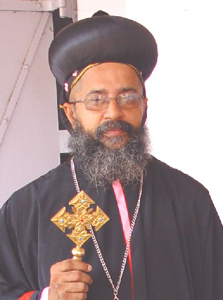 Blessings to our Cor-Episcopoi, Priests, Deacons, and Seminarians.
As many have become aware, His Grace Zachariah Mar Theophilus, Metropolitan of Malabar Diocese, had been visiting the states following the celebration of the Holy Week services in Edmonton.
Last week, His Grace reached Houston and had continued to experience severe back and leg pain. Yesterday, His Grace was admitted to Lyndon B. Johnson General Hospital in Houston. The medical team is still performing several tests, but no formal diagnosis or treatment has been given. The doctors are not considering this a life-threatening situation, but His Grace will continue to receive medical care and supervision at the hospital for the time being.
Rev. Fr. Joshua George ( Vicar St. Mary's Houston )  and Mr. Abraham Eapen ( St. Thomas Cathedral Houston ) are both with His Grace full-time and are attending to his needs. Due to the high call volume and frequent visitation, it has become quite difficult for them to attend to His Grace.
We are making sure that His Grace receives the best medical care and attention. For the time being, we are discouraging visitation and phone calls to the hospital, and please advise the same to all the faithful in your respective parish.
In the case of any developments or updates, we will communicate via e-mail or the diocesan website.
We are requesting all our clergy and faithful to pray for His Grace, that God may have mercy on him and provide healing and restoration of health.
Your Shepherd in Christ,
Alexios Eusebius Metropolitan