MMVS Detroit Regional Meeting held on Saturday, March 14, 2017 - Report by Mrs.Santha Varghese (Regional Secretary )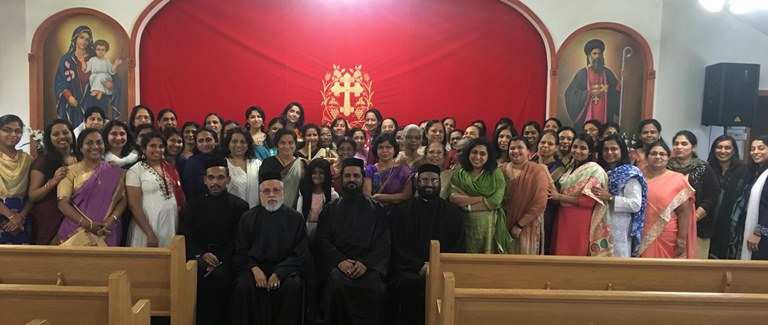 Our Detroit area MMVS Lenten Meeting was held on Saturday, March 14, 2017, at St. Gregorios Church (Rochester Hills, MI). It was a tremendous success. Rev. Fr. P. C. George (Parish Vicar) opened & closed the meeting with prayer. Revelations 13:10 was the day's theme: "He who leads into captivity shall go into captivity: he who kills with the sword must be killed with the sword. Here are the patience and the faith of the saints." Achen's keynote address was in Malayalam and well received. He reminded us that sin is universal. However, it is our attitude towards sin that truly counts.
Rev. Fr. Jerry John Mathew (Vicar of St. Mary's Parish) graciously spoke to us. He instructed us that we grow individually by being in communion with God and in communion with our community. Thus we extend the Church to the next generation, to society's needs and to all of our life areas. Achen's family, Kochamma, and daughter traveled especially to attend today's gathering, for which we were grateful.
Rev. Fr. Philip Jacob (Vicar of St. Thomas) and Deacon John Sankarathil (St. Mary's parish) also participated in and graced the day's 3-hour gathering. Our attendance of 58 was our highest ever (11 St. Gregorious; 11 St. Mary's &; 36 St. Thomas). Our newest parish unit, Cleveland St. Gregorios, was unable to attend but sent their warmest wishes and prayers. We look forward to their continued growth and participation. I give my sincerest thanks to all who attended and to all who contributed to the day's success.
We held a short business meeting to review all the 2017 MMVS events that our Diocese painstakingly prepares for us. Our intention was to enlighten all and thus, increase member participation. In accordance with the day's teachings, our members were encouraged to increase their participation and to encourage other potential members to join in our gatherings and activities. From my observations at St. Thomas, I am pleased to relay to you the significant improvement in participation in this year's upcoming Essay Competition and Book sales. Additionally, the Cleveland unit reported Homemade Pickle Sale Fundraiser (during Lent) exceeded their expectations. I hope such notations will be an encouragement to all units' efforts.
We give thanks to H.G. Alexios Mar Eusebius, Our dear Clergy, Executive Members (Binny Achen, Santhamma Aunty & Gigi Simon) and all members for their continued support and prayers.