Rev. Fr. Varghese (Santhosh) K. Joshua awarded with Doctorate in Theology.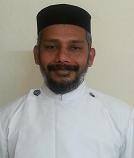 Rev. Fr. Varghese (Santhosh) K. Joshua, a member of Njaliamkuzhi Mar Baselios Dayara, is awarded with Doctorate in Theology by the Dharmaram Vidya Kshetram Bangalore (DVK) which is a Pontifical Athenaeum for higher learning and formation. His Doctoral Program was based on the subject - Church, the Bride of Christ - in the homilies of Jacob of Serugh, one of the foremost Syriac poet-theologians. Fr. Santhosh had already achieved his M.Th. from Serampore University based on his study of Early Church Fathers, M.A. in Theology from Baltimore St. Mary's University USA and M.A. in Syriac language from Mahatma Gandhi University, Kerala.
It was the Saintly Metropolitan H.G. Geevarghese Mar Ivanios of Blessed Memory who could foresee the call of Fr. Santhosh for the spiritual vocation and picked up as his disciple. Fr. Santhosh strictly follows the footsteps of his Guru in all walks of life. In spite of the busy schedule of his doctoral program he chose to be with his fatherly Bishop to look after and minister him during his last months of life and turned out fortunate to be present on his bedside during heavenly call of Ivanios Thirumeni.
His latest assignment is as the pioneer coordinator of Sopana under the leadership of our Church Scholar Rev. Fr. Dr. K.M. George. Santhosh Achen has done an exemplary contribution to Sopana to reach out the motives and activities of the organization to a large extend of the world. Achens past assignments includes serving as the vicar of St. John's Church Meenadom, Kottayam Diocese.
Fr. Dr. Santhosh Joshua is son of Kizhakkemannil P.C. Joshua and Marykutty of Kadeestha Church, Thumpamon North.
Congratulations to Fr. Dr. Santhosh Joshua in this great achievement. Achen turned out to be a great asset of our Holy Church to take up bigger and responsible assignments of our Church. Wish him and pray for all success in his life.
Sent by Dr. Rajan Mathew (Philadelphia)