Diocesan Administration
H.G. Alexios Mar Eusebius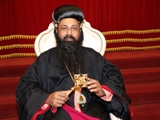 The Malankara Syrian Christian Association met on Sep 11, 2008 at Pampakuda and decided on electing seven Bishop designates. Fr. Alex Daniel was named among the seven. The service of tonsuring of Bishop Designates to monastic orders was done by H.H Moran Mar Baselius Marthoma Didymos I on Dec 4, 2008 at the Parumala Seminary. On Feb 19, 2009 the consecration ceremony was performed by H.H.Baselius Marthoma Didymus I, at St. George Orthodox Church, Puthupally. Thirumeni was appointed as the Metropolitan for the newly formed South-West American diocese according to the suggestions of Managing Committe meeting of Feb 24, 2009 and from recommendations of the Holy Episcopal  Synod meeting of Feb 25, 2009.
sedalia mo cash advances
payday loans online with savings account
female driver car insurance
advance bad cash credit loan loan
employee cash advance
multiple car insurance claims
easy cash advance loans online
qoutes auto insurance car insurance
rental car insurance usa
auto owners insurance log in
payday loan states
horrace mann car insurance agencies
cash advance lakewood co
fighting payday loans
payday loans debt consolidation

gulf shores payday loan
california payday cash advance companies
cash loans in nj
cash jar loans
payday advance detroit michigan
florida cash advance america
punta gorda payday loan
no teletrack payday loan lenders
advance cash loan payday through
apply payday loan
dallas merchant cash advance
cash advance in woodstock georgia
comments on cash advances from probate
advance loan online payday
payday loan paydayloanpages com
payday loan levy county
payday loan no direct deposit required
payday canadian payday loan
payday loan new london ct
500 payday loan credit

 
His Grace Alexios Mar Eusebius formerly Very Rev. Alexanthrayose Ramban (Rev. Fr. Alex Daniel) is a member of St. George Orthodox Church, Puthoor of Kollam Diocese.  Thirumeni hails from Vattakkattu family, Puthoor.  Thirumeni is the fourth son of Late. Y. Daniel and Smt.Chinnamma Daniel. The late Fr. V.J. Jacob, Vattakkattu is his paternal uncle.  His Grace's educational achievements are listed below:
B.Sc from Kerala University
LL.B from Bangalore University
GST from Orthodox Theological Seminary Kottayam
Bacehlor of Divinity Serampore University
M.Th from St. Peter's Pontifical Institute of Theology, Bangalore
Diploma in Biblical Geography  from Tantur Ecumenical Institute, Jerusalem
Research Study in Old Testament from Federich Alexander University Germany
Pursuing Doctoral Research in O. T from St. Peter's Pontifical Institute of Theology, Bangalore.
In 1995, H. H Baselious Mathews II ordained him to the priesthood. Along with serving priestly duties in various parishes in Bangalore, Germany and the Calcutta diocese, His Grace has served in many key positions:
Appointed as the faculty of Old Testament in St. Thomas Orthodox Theological Seminary, Nagpur.  Warden, Director of Fieldwork, Bursar
Director of OVBS
Treasurer of School for Mentally Challenged Children, Nagpur
Treasurer, the Orthodox Sunday School Association of the East (Out Side Kerala Region)
Director of Akhila Malankara Orthodox Shushrushaka Sangam (Out Side Kerala Region)
Advocate in the High Court of Kerala in the year 1994
Practiced as a Civil Lawyer in the District Court, Kollam
Handled the regular columns in the Malankara Sabha, Sahayatra, Parish Mission Literatures of the Nagpur Seminary and in the Souvenirs and Magazines of various Churches.
Published a book in Malayalam named "Vachanathejas", a compilation of Sunday Sermons for a complete year.
His Grace has served and represented the Church in other ways by participating in many conferences of SATHRI and ECC, Bangalore, VIth annual conference of CMAI, Schillong (2006), the Curriculum Revision Committee of Serampore University (2006), five-day conference for the youths of Orthodox – Lutheran Churches held at Greiswald, Germany (2005), works of NCCI and India Peace Center, Nagpur.